In German there are several words for "marriage certificate": Hochzeitsurkunde, Heiratsurkunde and Eheurkunde. "Eheurkunde" is the official word which is used. In English however, there is no question that "marriage certificate" is the correct term to be used. Before you can get married, you might have to obtain a marriage license (1). If you are already married and have been given a marriage certificate which you now need a translation for, let me say: Congratulations!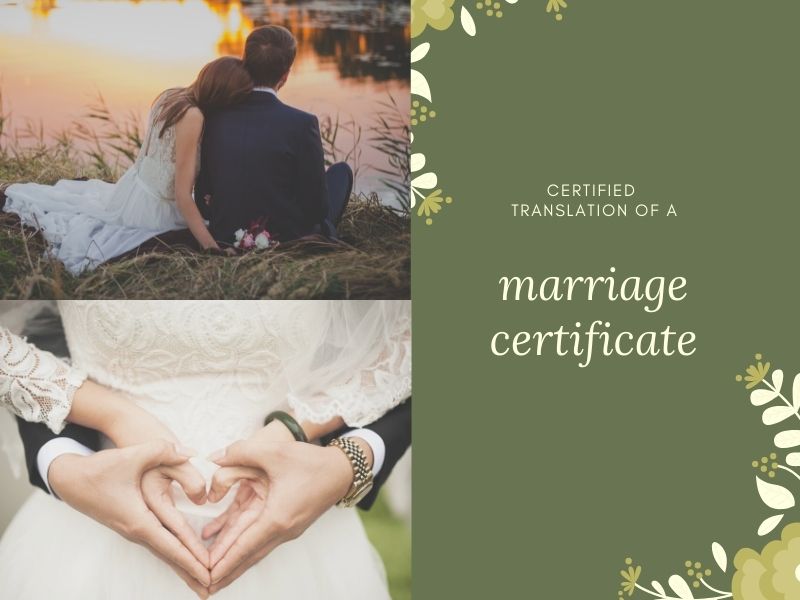 Does one need a family register?
When marrying at a German registry office, the registrar will usually offer you a family register, a book for keeping your civil status certificates on file. Such a family register is common in Germany. In the UK, Ireland or the USA, a book holding the family's certificates is not as customary to have. You do not have to own a family register in Germany; it is just nicer to receive your marriage certificate in a book rather than simply being handed a piece of paper.
Do I need a translation of my German marriage certificate?
If you got married in Germany, you can apply for a multilingual copy of your marriage certificate at the registry office. Although this will also cost you something, it is usually cheaper than commissioning a translation into English. In some cases, it may be quicker to have the document translated. Both options are possible and of equal value.
What should be considered when translating a marriage certificate?
Did you get married abroad, for example in Las Vegas, and need a certified translation of your English marriage certificate into German? This is where I come in as a translator. All the components of the document are important for certified translations: Does it have a reverse side? Are there watermarks or an embossed seal? If I have not seen the document yet, such information is very important for me. If your certificate was issued in another foreign language besides English, this is not a problem. I would then note in a comment on the translation that I have only taken into account the English terms. If handwritten entries are difficult to read, a brief explanation on your part, such as spelling out written names, helps to avoid unnecessary guesswork.
What about the apostille?
In most cases, the German authorities require an apostille (and its translation) for the marriage certificate. With the apostille, the foreign authority, in whose register the document was entered, confirms the signature and function of the respective official who issued the marriage certificate. My tip: Ask to get the apostille at the same time you get your marriage certificate.
How can I have my marriage certificate translated?
The best thing to do is to send me a cost enquiry via the contact form (click on the link below) and attach a scan or photograph of the relevant document(s), encrypted if possible. I will then prepare a fixed price quote, which you only need to confirm. Next, I will send you an invoice and, after the payment has been made, start the translation process.
To confirm that I have done a translation from the original, you would have to come to my office with the original document. On this occasion, I would give you your translated document(s).
Note: Due to the current global health crisis, it is possible to complete the translation order without a personal meeting.